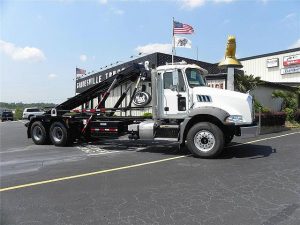 Quad City Residents Have A Choice Between Junk Removal And Dumpster Rental
If you live in Moline, davenport, Bettendorf, or Rock Island, you have a choice between roll off dumpsters and junk removal service.  If you're a do-it-yourselfer with lots of construction waste, you might want to rent a big dumpster, fill it yourself, and save some cash.  On the other hand, if you only have a couch or one chair to be disposed of, you might want our junk removal crew to drive by your Bettendorf, Iowa home and just toss the item in the back of our junk collection vehicle.
The Quad Cities has an abundance of waste haulers, garbage companies, dumpster rental  companies, and junk removal companies.  Some of these companies are small local trash haulers and some are nation wide waste management companies.  On the junk removal front, you will find both local companies and 1800 out-of-town junk removal firms.  There are some junk removal and waste management companies that serve other areas, but are not in the Quad Cities area.
So under what circumstances would a business or resident of Moline or Bettendorf hire a full service junk removal business?  Lets consider some of the following situations:
Moline, Illinois business wants to have an appliance removed, but can not dispose of it in the dumpster.  Yep, a junk removal crew can often take items such as electronic waste, tires, and appliances that can't be tossed into a steel waste bin.  Junk removal crews can separate the items and take them to the proper recycler or processor to avoid landfill disposal of banned wastes.
Bettendorf, Iowa home has a hot tub that needs to be removed.  Junk removal crews do minor demo or disassembly of items for an additional charge so the homeowner doesn't have to.  Hot tubs, swing sets, etc can all be broken down and hauled off in our collection vehicles.
Davenport, Iowa resident has a few cubic yards of waste to be disposed of, but doesn't want their driveway blocked by a rented dumpster.  Another example of where a junk removal crew can come by and toss some debris in the back of a truck without blocking the customers driveway for an extended period of time.
Rock Island, Illinois resident has a sectional couch in the garage and wants it hauled away, but doesn't wasn't to incur the full price of a big roll off container.  Perfect job for our junk crew!
And then there are situations which are more appropriate for a roll off container.  These examples include large volumes of waste which will be generated over extended periods of time.  Take, for example, a construction site, many 30 cubic roll off dumpsters are filled over a period of a year or more.  This might not be an economical situation for a junk removal crew.
So What Solution Is Right For You?
Enough about hypothetical situations, you have a real life problem and we'd like to help you find the right solution.  Our friendly office staff is waiting in Bettendorf, Iowa for your call to help you determine if a dumpster rental in Moline, Illinois is right for your home home or if a junk removal crew should be sent by instead.